"I never knew there could be so much behind a single sports bet. But ever since I joined the Inspin.com team, I've been a smarter sports bettor and I have the bankroll to prove it."
Ranked #4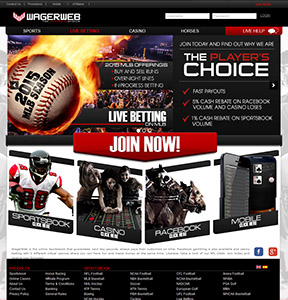 Current Promotions
50% Cash 75% Free Play Bonus 15X Rollover
5% cash rebate on racebook volume and casino loses
1% cashback on sportsbook volume
"WagerWeb.ag is one of my favorite places to bet on sports. They are fairly new but growing quickly and more importantly they pay when you win."
– Editor Inspin

Editor's Review of WagerWeb.ag

Basic Details
Owner: WagerWeb
Country: Costa Rica
Year Established: 1994
Website: WagerWeb.ag
---
Type: Traditional bookmaker
Platforms: PC, mobile
Live streaming: Not available
US players policy: Accepted
Odds format: EU, UK, US
When the world thinks sports betting, they think WagerWeb. The name is synonymous with playoff action, including NBA, NHL, MLB, and NFL. And when it comes to betting on the Belmont Stakes, Preakness Stakes, or the Kentucky Derby, WagerWeb has become a top destination for new sports bettors and pro bettors.
WagerWeb doesn't just offer a racebook and sportsbook. They also offer a full casino where you can play your favorite games. Keep reading to discover how everything stacks up at WagerWeb.
What We Love About WagerWeb.ag
If you never want to miss a beat (or more specifically, a bet) you definitely should put WagerWeb on your short list. With live betting, you can bet on games as the action unfolds. And you can bet from your mobile device, too. Imagine being at a game and betting on it from the stands. You can't beat that.
The overall betting platform on desktop and mobile is second-to-none, and the lines are fairly competitive, though we always encourage sports bettors to have multiple sports betting accounts to benefit from the best lines.
What We'd like to See Improved
WagerWeb is a pretty big name, so they don't have to offer big promotions to get people to sign up. That's good, because it says that they're honest and reputable. But it's also a bit of a negative point if you're a new bettor looking to sign up.
With that said, WagerWeb does offer a 5% cash rebate on racebook volume and casino losses, plus a 1% cash rebate on sportsbook volume. It's not incredible by any stretch of the imagination, but it's better than nothing.
Editor's Rating of WagerWeb.ag

Overall Rating Score
There are countless online sportsbooks operating and we give you the credible information to make informed decision where to play. The books we list on our website have all been approved and endorsed based on our own analysis as well as feedback we receive from our site visitors. The review of these sportsbooks is an ongoing process and the criteria we use to formulate the overall rating of each sportsbooks was chosen by the editor as well as feedback we received from the loyal community we have built.
The criteria is broken down into 5 major categories which include Customer Service, Deposit Methods, Payout Methods, Software and Customer Feedback. Within each of those main categories are sub-categories such as chat response time, credit card approval rate, payout processing time, mobile betting platform and website up-time to name a few.
We analyze the results of all of our criteria as well as the customer feedback from trusted community members and we issue a final overall rating score. The rating score can remain the same or change over time if a endorsed sportsbook fails to live up to their expectations.
[dfads params='groups=45&limit=1&orderby=random']

WagerWeb.ag | Join Page